Graves County, KY Cost of Living
When you look for a place to live, many people search for a region with a low cost of living to make their dollars go further.  When searching for a place to live, generally each person (or family) has something at the very top of their priorities list, which is the single most important factor for them in choosing a home. For many people, this factor is the cost of living.
If you're looking for a low-cost place to live with cheaper housing, groceries, and utilities, reviewing the cheapest states is a good place to start.
According to an article published in USA Today, Kentucky ranks as the state with the third lowest cost of living in the United States.  Graves County's cost of living is even better that the state average.  With a score of 100 representing the average in the US, you can see how Graves County, Kentucky stacks up.
Cost of living indices are based on a US average of 100. An amount below 100 means Graves County is cheaper than the US average. A cost of living index above 100 would mean Graves County, Kentucky is more expensive.
GRAVES COUNTY COST OF LIVING IS 79.7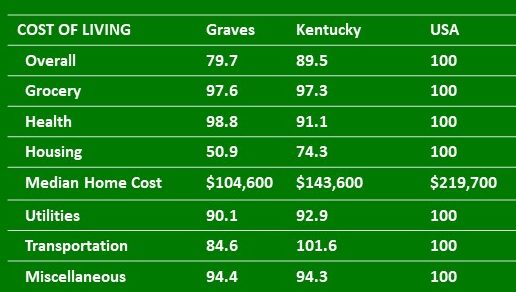 Interested in learning more about Grace Commercial Park and our community?